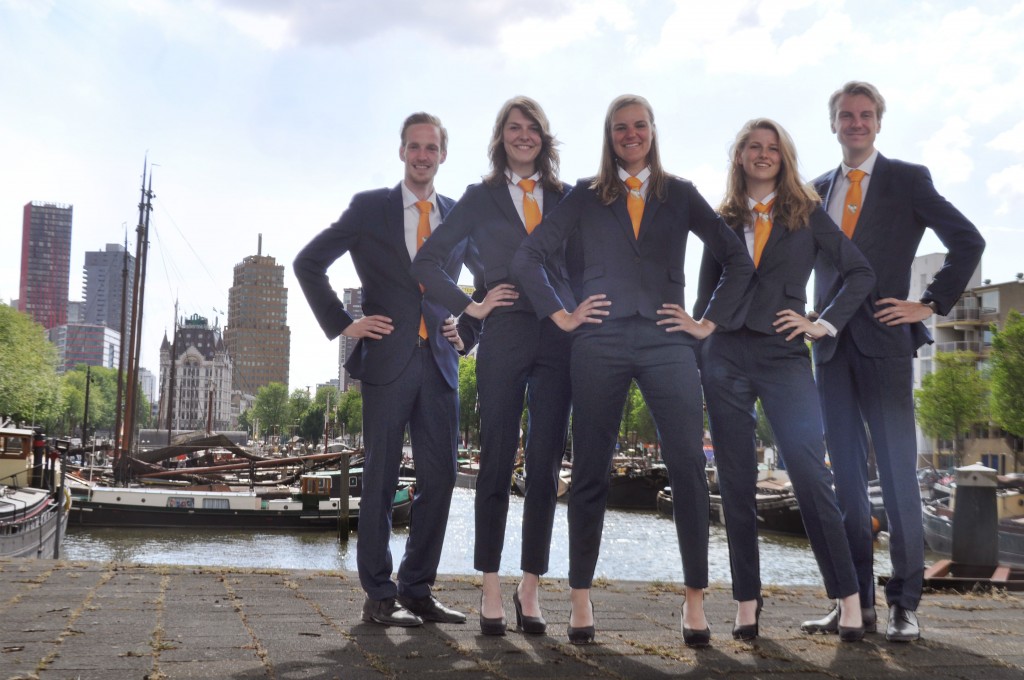 Board V - 2017-2018
 Claudia Oranje (president)
voorzitter@essvalcedo.nl
06-55544033
Due to a spontaneous action by one of the members, i suddenly found myself at one of the trainings last September. My first participation at Alcedo made me so enthusiastic that I became a member. For the past 4 years I did not do anything with ice skating, I started when I was 7 years old, and was well done with skating. After 4 years of doing many other nice challenges and activities, (I obtained my MBO diploma, ski and snowboard lesson and worked in the Belgian Ardennes) I thought to myself let's try it again. I went a completely different direction and started HBO Architecture at the University of Rotterdam last September. The cosiness of Alcedo, the different students who come together, the beginners and advanced make this association very fun and cozy. I would like to continue with this look, with the aim of growing the association with more enthusiasts and wishing to convey love for sport and the lazy student life as new president.
Sanne Boom (secretary)
secretaris@essvalcedo.nl
06-51352854
I am Sanne and I have the honor to take office as secretary next year. I'm currently following the Master of Orthopedagogy at Erasmus University. I've always found it fun to skate, but on an annual visit to the ice rink. I did not do much with it. Last September, I joined Alcedo and found out how fun and fun it is to be more serious about this, both on and off the ice. I hope that, as a Board of Directors, we can ensure that the association continues to grow as in the past year, and that in particular, the number of active members increases significantly. I certainly have a lot of fun in the next year!
Jan van Dam (treasurer)
penningmeester@essvalcedo.nl
06-14184433
My name is Jan van Dam and I'm studying medicine. I have been doing ice skating since last September. Last year, I had a lot of fun with Alcedo and therefore I want to work for myself next year to make it possible for you and the new members. In the coming year, I hope to fulfill the role of treasurer. Under the motto "money does not play rolex" and "money has to slip" we will hopefully have a nice year of association. Defaulters are not appreciated, but will receive many nice messages from me.
Jeroen van Dijk (competition commissioner)
wedstrijd@essvalcedo.nl
06-10235580
I am Jeroen and I am a third year student water management. I've been doing ice skating since I'm small and I've always liked it a lot. Ever since I joined Alcedo, I started training again and became much more fanatic with competitions. Next year I will start as a match commissioner at Alcedo. I really want to do something fun and hope to see more and more people who join the IUTs! It would of course be fun if we could win in a few categories!
Iris van der Rest (PR commissioner)
pr@essvalcedo.nl
06-22062463
I'm Iris and in the upcoming board I will represent the PR function. I am studying Urban Design in Breda, but I still live in Rotterdam. That's why I also came to Alcedo. Actually, I've been skating from a young age. I have a great time trying to keep me busy with PR! The Alcedo family is growing fast and I'm going to help. I'm going to let everyone know how nice ice skating is and how much fun it's when you skate at Alcedo. It will be revolutionary I can tell you.
Old boards
Board IV – 2016-2017
Deborah Veerman (president)
Esther Schrama (secretary)
Mathilde Simon (treasurer / PR-commissioner)
Pim Heikoop (competition commissioner)
Board III – 2015-2016
Esmee de Bruin (president)
Anne de Weerdt (secretary)
Patrick Smaal (treasurer)
Chiel Bakker (competition-/PR-commissioner)
Board II – 2014-2015
Martin Schaaphok (president)
Stijn Oude Elferink (vice-president)
Mercede van Voorthuizen (secretary)
Patrick van de Werken (treasurer)
Monica Ravenstijn (PR-commissioner)
Board I – 2013-2014
Martin Schaaphok (president)
Stijn Oude Elferink (vice-president)
Jamie Romijn (secretary)
Patrick van de Werken (treasurer)
Pim Baan (PR-commissioner)
Monica Ravenstijn (competition-commissioner)
We are always looking for enthusiastic members who are interested in organising fun events for our association. So would you like to be part of organising our "11-pub-crawl" or our "IJsvogala"? Don't hesitate to ask by sending an e-mail to info@essvalcedo.nl