Ice-skating in winter is possible in our own ESSV Alcedo wear! Our ice-skating clothing is of the brand Hunter, which guaranties very high quality. We offer two kinds of Marathon suits, a ice-skate jacket (which you can also wear in summer), ice-skating tights (sjalopette), two types of pants en cycling clothes.
All our Alcedo clothes are in the colours orange, white, black and the green Rotterdam is incorporated at the end of the sleeves.
Marathonsuits, competitionsuits
You can choose between a warm thermo suit or a marathon-competition suit, which is less thick but consists of a competition cap. Both suits are separately available for €107,50 in sizes XS, S, M, L, XL.
Skating jacket
Are you also/more interested in a warm skating jacket of ESSV Alcedo? Then you have the possibility to buy a windproof jacket which is available in sizes XS, S, M, L, XL for €47,50.
Skating tights
You don't want to buy a whole skating suit? Then maybe the skating tights are something for you. They are with salopette to make sure they stay in place. Available in different sizes for €47,50.
Zipperpants
The zipperpants have a black track on the sides and are without suspenders. You can use these pants for some extra warmth during the warming-up or you can wear it on your wat to the ice rink! These are available in sizes XS, S, M, L, XL for €42,50.
Sweatpants
The sweatpants have the text "ESSV Alcedo" on the sides and are from the brand CRAFT. You can wear the pants over you skating clothes or you can chill in them when you are at home and want to be kept warm! These are available in sizes XS, S, M, L, XL for €45,-.
Cycling
In the summer time we like to jump on our bikes together. Of course, we do this in Alcedo-style. Therefore we have designed our very own cycling clothes. You can buy the shorts and tops separately or together. The tops come at a price of €39,20 and the bottoms at a price of€54,-.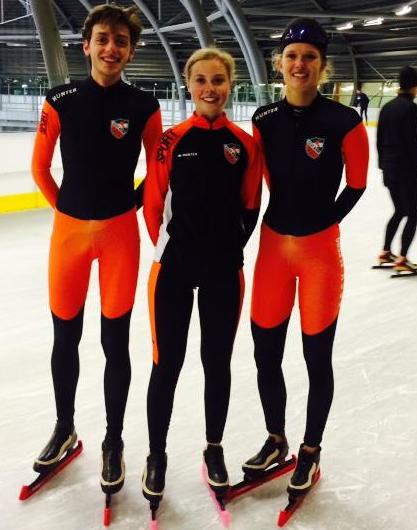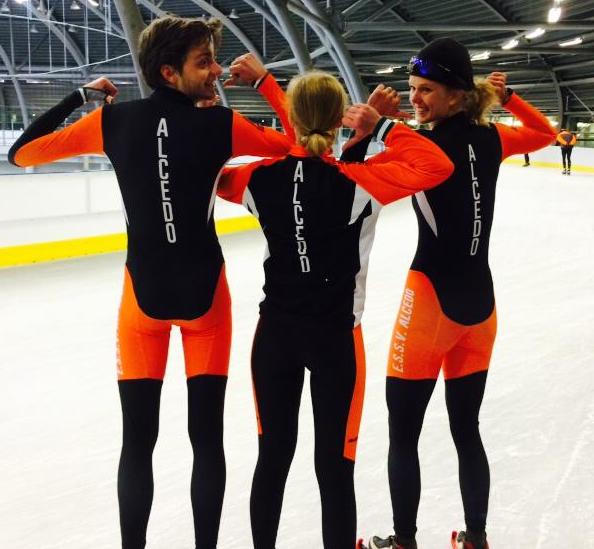 Left and right you see the marathon suit, and in the middle the skating jacket and tights.
When you know which size you need you can order your piece of Alcedo clothing of preference by sending an e-mail to penningmeester@essvalcedo.nl
Except for the jackets, the Alcedo clothing is not in stock and delivery time is around 8 weeks.
In case you are wondering which size you need you are welcome to try the different sizes at Dave van Dam Sportswear in Stolwijk or ask a fellow member to try on their clothes. 
---